Entertainment
Stop by the Center Hall front porch where a wonderful lineup of local blues, country, and folk music will be played throughout the day. The first band will begin around 10:00 a.m. And don't miss the address by Franklin and Eleanor Roosevelt at 11:30.
Music Lineup
10:00 a.m.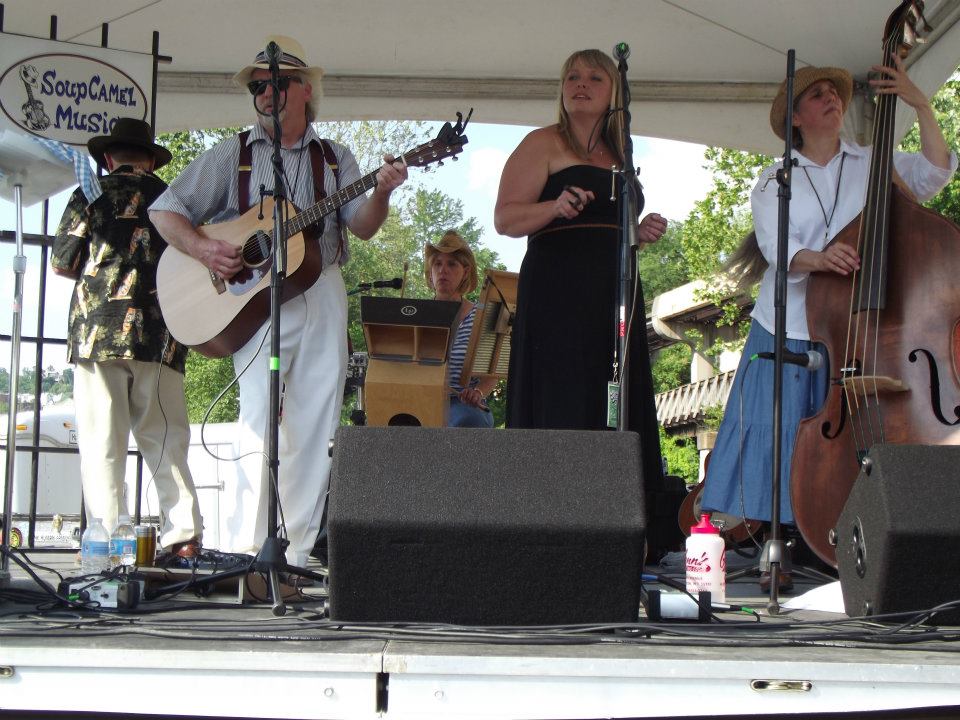 Soup Camel is a unique band from Morgantown, West Virginia consisting of; Soup Camel, Motown Minnie K, The Beat Doctor, The Lovely Leslie Faye, and Delta Dave. Their music is an eclectic mix of genres that can only be described as Americana. Mostly acoustic in nature, Soup Camel is rooted in jazz/blues from the 1920s to 1940s and beyond with some occasional journeys into world music.
12:00 p.m.
Despite their laid back attitude, this Pittsburgh band will get you out of your seat and shufflin' your feet! The five man group has been playing the Blues since 2000, and they have no plans to quit. They've played shows all over the region, and their music has been played on local and regional Blues stations as well as in Europe, Canada, and Australia. Band members include Tim Ambrass, Brent McConnell, Pat Tevis, Tim Vitullo, and Earl Schwalm.
1:30 p.m.
TRIADELPHIA is a dynamic folk-rock trio from Wheeling, WV. Their unique sound is based in "roots music" formed by merging American musical traditions like folk, country, blues, rock and roll, R & B, and hints of bluegrass. Members of the trio are Dennis Moreau, Jason Lynn, and Keith Tewell.
3:00 p.m.
Black Horse is the dream of founders John Natale and Ken Homerosky – a band devoted to playing true country classics. They draw on the music of legends like Johnny Cash, Merle Haggard, Buck Owens, George Jones, and honky tonk master Hank Williams Sr. Black Horse was recently invited to become regular cast members at the Wheeling Jamboree, and have played fairs and festivals throughout Ohio, Pennsylvania, and West Virginia.
---
This program is presented with financial assistance from the WV Division of Culture and History, and the National Endowment for the Arts, with approval from the WV Commission on the Arts.